Cutlery
Th
The German Muller Collection
The Cadillac of knives
MULLER 7 PC Knife Set with acrylic stand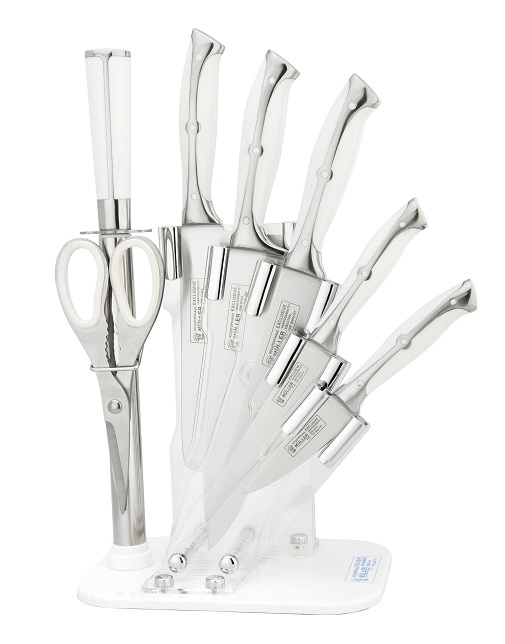 Ultra modern. Available in black or white.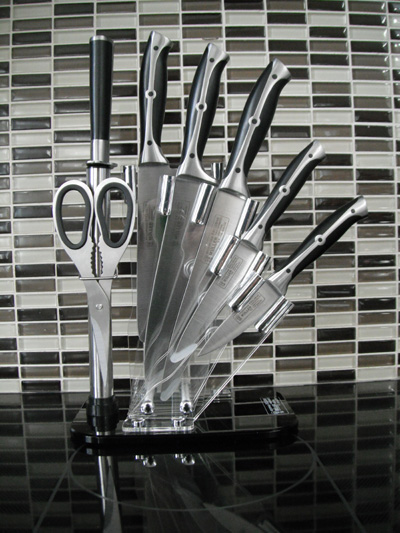 Looks stunning in any modern kitchen
MULLER 14 PC Knife Set with Wood Block
Full Tang, High Quality Stainless Steel, Extra Sharp Blades, PAKKA Wood Handles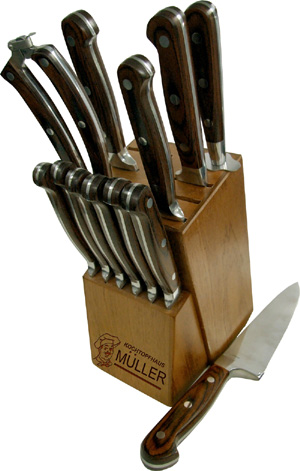 MULLER 24 PC Knife Set with Knife Case
Full Tang, High Quality, Superior to any knives available in stores.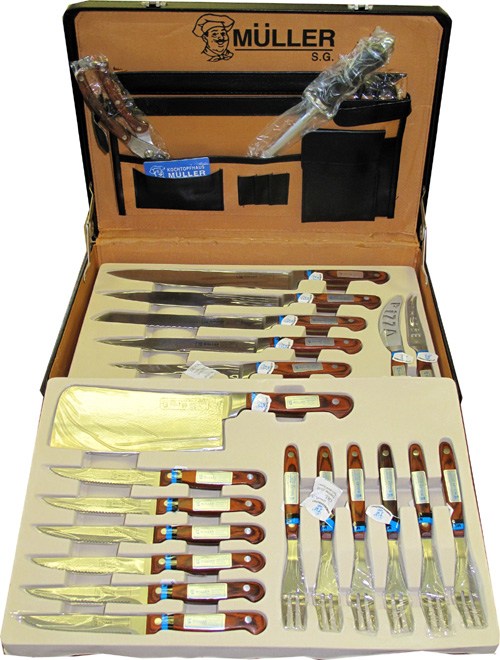 Beautiful PAKKA Wood Handles
Full tang blades. Everything you will ever need in a knife collection.
Beware of the 'knock-offs'. There are many imitations of the authentic Muller cutlery on the internet. There is a way to tell if it is authentic. Call for details.
---
We also carry the Messerstahl cutlery
The Blade - Crafted from French high carbon surgical stainless steel with Titanium is hot drop forged. Each blade is taper ground for maximum strength, sharpness and balance.
The Handle - Gracefully sculptured handles provide the safest and surest grip. This special seamless Polypropylene material is virtually indestructible, and easy to clean. The blade and handle are tested under 1000 pounds of pressure! Slip resistant finish and dishwasher safe.
The Bolster - Protects your fingers and knuckles. It also provides balance for ease and fatigue.
The Edge - hand-honed to give you a professional cutting edge.
Pride of Craftsmanship - Most knives can be assembled in hours. Every Messerstahl knife takes two months to make and requires over fifty hand done operations.
For prices and information call 1-877-523-7800

We Accept