Overview of the Free Water Purifier (FWP)Program:

Unlimited clear pure water for your whole family for as little as 39 cents a day.

FREE loan of a world class BelKraft ceramic/carbon block Slimline water purifier (reg. price $380) or the stainless steel BelKraft 2000 for an additional 15 cents a day. (reg. price $980)

An annual in-home service call to clean and sterilize the purification system, replace worn or broken parts and replace the ceramic/carbon block cartridge with a brand new cartridge.
This installation and in-home service program is currently available within the city of Ottawa, Ontario Canada. Please see *terms and conditions for customers outside of this area.
Water Products Inc. offers to its customers the ability to purify an unlimited supply of pure water for as little as 39 cents a day. This includes the loan of a world class BelKraft Slimline purifier (regular price $380) at NO cost for as long as the client remains in the service program. The 39 cents a day (total of $142.35 annually) includes an annual in-home service call where the purification system will be cleaned and sterilized, worn or broken parts replaced and the cartridge replaced with a brand new BelKraft **3 stage ceramic/carbon block cartridge (regular price $129.00) all included in the annual maintenance fee of $142.35. In addition, the initial counter top installation is FREE. The model provided is made of high grade polypropylene and sits on the kitchen countertop next to the sink.
An upgrade to the BelKraft 2000 surgical stainless steel model can be made for an additional 15 cents per day ($54.75 annually). The surgical stainless steel model (regular price $998.00) can be installed either on the counter or under the counter with an attractive faucet installed on the edge of the sink. The installation kit which includes the faucet of your choice and all of the necessary equipment to complete the under counter installation is available at 50% off the regular price provided it is ordered when the initial installation is scheduled. The under counter installation of the water purifier will be the responsibility of the client but our installer will be happy to assist and hook up the faucet. The faucet and other installation kit items become the property of the client.
The BelKraft water purifier, either polypropylene or surgical stainless steel, remains the property of Water Products. Clients can purchase their BelKraft water purifier at any time at 50% of the regular price.
**The BelKraft 3 stage ceramic block cartridge filters down to 0.3 of a micron. The diameter of a human hair is about 100 microns, human cells are about 10 microns and bacteria can be as small as 3 microns, far too large to pass through our amazing BelKraft purifier. The ceramic filter is impregnated with silver which kills bacteria on contact and prevents any bacterial growth or contamination of the other components.
Terms and conditions
Water Products Inc. hereby agrees to provide one of the world's best water purifiers at no charge on a loan basis for as long as the client wishes to remain on the FWP service program. A condition of the FWP program is that the water filter is serviced annually by a Water Products Canada technician and the cartridge replaced with a genuine BelKraft cartridge.
This service agreement can be cancelled at any time and the customer just simply returns the water purifier to Water Products Inc.
*The FWP program is also available for customers living in rural areas and cities and towns not currently serviced by Water Products service program. The customer can still receive a BelKraft water purifier on loan at no cost, but instead of the free installation or annual in home service the company will pay the cost to ship the purifier, the cartridge and any optional equipment purchased. We also provide simple installation and service instructions. These customers also have access to the customer helpline to answer any of their installation or service oriented questions, and all for only 39 cents or 54 cents a day.
Your choices are;
The BelKraft Slimline countertop water purifier for 39 cents a day. ($142.00 plus GST annually)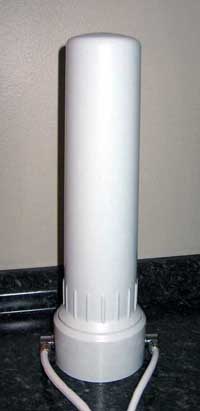 The BelKraft Universal countertop water purifier for 39 cents a day. ($142.00 plus GST annually)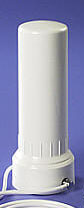 Same material as the Slimline but built for Undercounter installations.
The BelKraft 2000 stainless water filtration system for 54 cents a day. ($197.00 plus GST annually)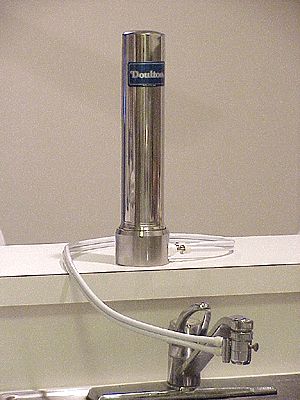 Water Filter Under Counter Faucet Kit comes complete with faucet and all hardware for a simple hook-up ($96.00 plus GST)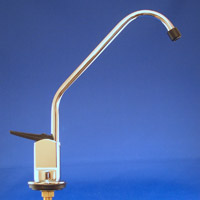 Standard Faucet #1
We have many other faucets to choose from. If you wish to upgrade to a faucet that matches your kitchen tap call into our office and we can arrange for that.
Classic Faucets #2 and #3 (add 94.00)
Solid lead-free brass body
2.2 GPM flow rate
Quarter turn ceramic disk valve
Spout swivels through 360 degrees
Lifetime drip-free warranty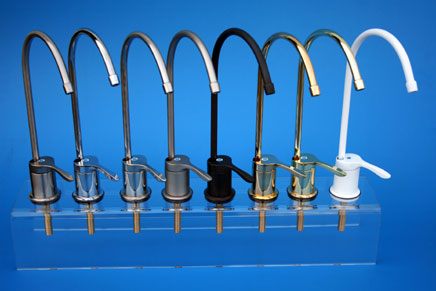 Designer Faucets #4a to 4h (add 189.00)
Our best quality by far.
An elegant faucet to match every decor. High quality ceramic disk movement.
Refer a friend and receive a bonus gift.
Go HERE for a printable maintenance agreement.