TESTIMONIALS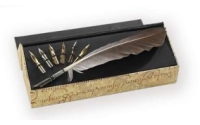 Water Products cookware is supplied by BelKraft.
Below are some comments from happy clients of this amazing waterless cookware.
Brenda Scorah
"Hi Ron: My name is Brenda & I bought your waterless cookware from a door to door salesman in Edmonton Alberta in 1982. At that time I was single & living with room mates who thought that I was crazy to spend that much money on cookware ($1000.00, a lot of money at that time). Today 26 years later I am married & use my cookware regularly. It pretty much looks the same as the day I bought it & works beautifully! I also got a set of crystal as a "gift with purchase" & still have the whole set & use it too! I was pleasantly surprised to find your website & see that BelKraft was still in business, because of the quality of the cookware I have never needed to contact the company so have never looked for you before. I was cleaning out some old files & found the paperwork & decided to see if your company was still around & here you are! I just wanted to let you know that I for one am a happy customer & wouldn't hesitate to recommend your product to friends!
Thank you, Brenda Scorah " LL
---
D. Ayliffe
Thanks for your help with everything. As for that testimonial.
I've owned my BelKraft cookware set for 30 years and have often boasted about having the greatest pots and pans one could find. However, I never dreamt they could conceivably avert a near disaster.
One busy Sunday, in a preoccupied moment, I left the house for 1 and ½ hours with something cooking on my gas stove in a BelKraft 2-quart saucepan. Getting out of my van on my return home, I could hear the smoke detectors going off. In fear, I opened the door expecting flames. Instead, I could see some smoke, and I could certainly smell it. Racing in, I found the contents in the pot burnt to a crisp and smoke rising from it. Except for charred food around the inside and some blackness on the outside bottom, the saucepan itself appeared to be fine. I have no doubt a lesser quality pot would have easily burnt through the bottom, possibly resulting in the handle meeting the flame and who knows what from there.
I still can't believe it. Nor can my friends and family when I show them the saucepan. What a lifesaver!
Regards,
D. Ayliffe
Newmarket , Ontario
---
Lucie Segoin
First purchased in 1972. I still own it and am totally satisfied. Great product, excellent service and great selection.
---
My fry pan from 35 years ago warped and now that I had a new flat glass type stove top it was spinning. I called BelKraft and was upset that they didn't replace it for free. I thought it was covered under the 50year warranty but the girl said that warping falls under the " Full Hazard Warranty".
Under this warrantee they only replaced it for half price. The new 7-ply pan seems to be twice as thick and so far so good. I suppose I should just be grateful that they're still around after 35 years.
Mary Ellen Goyette
Ottawa
---
Kelly Cattell
Hi! My name is Kelly Cattell. I purchased your set of pots and pans 20 some years ago and have nothing but great comments about the set I purchased. I remember my mom thinking I was crazy because I purchased them when I was 17 years old and I put them in my hope chest. I also chose the set over purchasing a car!! I was married when I was 20 years old and it was so nice to have a good set of pots , they have been absolutely the best. Thank-you.
---
Debbie Corkery
Excellent cookware. 25 years old and I don't think they will ever wear out.
---
Cathy Doyle
Love all the products. Great service, great sales and nice people.
---
Lynne Morris
My set is 36 years old this august. It is great to be getting such great service after all these years.
---
Saralee Smyth
I bought my first set in '76 for a gift and bought my second set in '92 for ourselves. We really enjoy cooking with them.
---
Marguerite Evans
My set was purchased 37 years ago and has survived 37 years of marriage and 2 kids and many preparations for dinner parties. We're pleased that we still can get service and parts.
---
Francine Ryan
My first order was made 26 years ago and I have enjoyed using these products. This is my 17th order with no regrets. Good products and good service.
---
Diane Jodouin
My husband bought the BelKraft cookware in 1967 and took it with him when he divorced his first wife. Boy am I glad I met him so I could get introduced to BelKraft. Love at first sight.
---
Andrea Saulnies
I have finally met a representative from BelKraft. Didn't think the company was still out there. I've enjoyed my products - how they last! Thanks and I'll be a customer for a long time to come.
---
Kathy Hooks
Had my BelKraft pots for 28 years and still look brand new. Wouldn't cook without them.
---
David and Janet Manns
My wife and I have used the BelKraft cookware for 38 years and have been very pleased with their performance. Recently we have had to replace a few handles and found the after sales service excellent. Great products and a good company to deal with.
---
A.L. Jette
I bought my BelKraft cookware about 31 years ago. It has lasted very well and still looks like the day I bought it.
---
Melanie Burston
I have had my pots for 25 years now and they are the best investment I have ever made! I have even successfully made the pineapple upside down cake - it was great .
---
Joanne Hayes
Thank goodness I bought my pots and china before I got married - because when I got divorced they were still mine!
---
Susan Waters
After using these pots for 39 years they look like new. I would never change them for any other type of cookware because everything turns out well each time I cook. When I bought them at 20, I really couldn't afford the price - but now I couldn't afford to do without them. The best!
---
Cherie Ouellette
I bought my cookware in 1975. They still look like new. They clean up really well with little effort. Cooking food in them is great.
---
Judy Carroll
Bought my cookware 31 years ago. I loved them so much that when it was stolen in a break - in, I bought it again. I also took this opportunity to add to my china. Thanks again.
---
Maureen Cohan
I bought my cookware and china in 1975. I have never bought or used any other products. I love them and I can honestly say I believe in BelKraft and you will too. I'm not yet 50 years old. I was smart to buy them when I was young.
---
Mary Jane Duquette
I bought my BelKraft cookware in 1971. They are great. Ron Geyer brought me new handle for my pots and pans today and I told him my story of my eggs. I was cooking two eggs in one of my pots in water. I forgot about them and so the water ran out about a half hour later. I was upstairs getting ready for work (about 7:00 am) when all of a sudden there was a big bang in the house. I ran downstairs and saw that the 2 eggs had literally jumped out of the pot and exploded into smithereens - all over the walls, curtains, stove floor and ceiling. They had literally hit the ceiling side by side. Considering all this, my pot is still in great condition! Yea for BelKraft!
---
S. Payette
I have managed to find your website by searching on Vacumatic . I have a set of cookware my parents bought me in 1967 from a local sales lady that came to your home and performed demonstrations. I have used my cookware almost every day since then and they still look great and still have that "magic" vacuum when the lid is put on right. The only difficulty is that some handles need replacing. I live in Chatham between Windsor and London and would like to know if there is a vendor close by that I could take my cookware to be fixed. My cookware still works great and I don't want to replace them with a new set. Can you help me please?
---
Mary Tuck
I bought my cookware and china 40 years ago. Looks brand new - just had handles replaced.
---
Sandy Jackson
I began my first full-time job in 1967 and I purchased (I believe 1968) the 23 piece set. I don't remember what I paid, I only remember it was a large sum of money for pots and pans at that time. I have been cooking in these pots for 37 years and they look as good as the day I bought them. (I'm attaching a couple of pics).
I am thrilled to find your website to be able to get a new handle. Your product is supreme. Back in 1968 I tried to convince my girlfriend to buy the same set but she said she couldn't afford it. Well, at least six sets of pots and pans later she said she wished she had taken my advice! I look forward to hearing from you about the handle and thank you for your time.
A very loyal customer Sandy Jackson Windsor, Ontario
---
Well, I must say that I am more than pleasantly surprised! I didn't expect that the company would still be around after so long, and I thought that I'd take a chance and give Vacumatic a Google. Ta-da! I purchased my set of cookware in 1981 or 1982, when I was 17 years old. I have used them with pleasure since then, and have nothing but good things to say about the line (if I can ever be an advocate!). What I am needing is a replacement piece for one of the saucepan lids, as I can't mend the one I have any longer. I am tickled just to see that you are still around! Yay! So, on that note, I am off to check out the site further - might need that double boiler...
Yours Sincerely,
Maurine McVicar
---
Hello, Belkraft .... Here's a great story for you! (Sept.'06)
When my daughter was 2 (in 1964), a door-to-door salesman rang my doorbell, and pitched your cookware set. From looking at your website, I believe it was either a 19- or 23-piece set. If I bought the cookware, a set of china, service for 8, was thrown in for free. And if I bought the completer set (platters, gravy dishes, sugar/creamer, etc.), matching stainless steel flatware and crystal (both service for 8) was thrown in for free. To make a long story short, I think I paid $23.85 a month for quite a while.
My daughter now has the china. The crystal pretty much got broken. The flatware is missing many pieces. But that cookware has lasted all this time, and is only a bit scratched, but I only had one needed repair - the handle on the lid to the dutch oven came off and my brother-in-law had to fix it for me (this was within the last couple of years). It still cleans up remarkably well with a little Scotch-Brite on the inside and bottom, and I clean the shiny outside with a past of flour and vinegar and buff to a bright shine.
Needless to say, I have never regretted my purchase! You guys make a terrific product, and I expect my daughter to use it for over 40 years after she gets it, which I hope will be many years from now.
So, 40 years after the fact, I want to thank you for making such a fine set of cookware. Sincerely, Mikey Kerns, Payson, Arizona
---
Nov. '06
I purchased my Vacumatic cookware forty years ago in Kansas City MO right after I graduated from TWA flight attendant school. The gentleman who sold the set to me said that it was guaranteed for life. I noted on your web site that you are still in business and selling pots and pans that look just like mine.
I would be most amazed and delighted if you would honor the promise that the handsome young gentleman salesman made some forty years ago and replace my small frying pan.

Thank you for your consideration,

Judy Marsalis
Ballwin MO
---
January 23, 2007
Ron:
In 1968 I purchased my ' first ' set of BelKraft cookware, the19 piece set. That was also the year that I purchased my ' last ' set of cookware.
The very large salesman that I purchased from stood on the pans to prove their endurance.
39 years, 1 husband and 3 kids later I still use that same BelKraft cookware everyday. Because the years have taken their toll on some of the handles, I was delighted to discover that I could still replace the handles.
As a young secretary in the sixties, the initial investment seemed enormous. Almost 4 decades later I appreciate the value of quality and am delighted that BelKraft not only 'stand' on their products, they also 'stand by' their products.
Yours truly,
Cathy Macrae
---
Feb.'07
We are still using the set of pans my wife bought when we were first married almost 39 years ago. We need to purchase new handles for the 8 Quart pan. We cannot believe how these pans have held up over the years. They are the best.
Thank You

Richard Buckmaster
---
Greetings!!!
We have been using your pans for over 30 years. They are in excellent shape.
When my wife was doing the dishes and while I was behind my computer I 'Googled' your company name.
All is well in our Belkraft product home.
Regards,
Jack van der Laan
---
April '07
Dear Sir/Madame
Buying my waterless cookware from Belkraft International nearly 32 years ago was one of the smartest investments I have ever made. Growing up, I was always surrounded by the wonderful aroma of freshly baked bread, steaming robust stews and soups along with many other wonderful gastronomical memories that my mother so lovingly did day after day.
A friend of mine became a salesman for Belkraft International when I was 18 years old. I invited him over to let him practice his sales pitch so he could brush-up on his marketing skills. It was not my intention to make any such purchase for I was still just a teenager but the product sold it self to my mother and I without a blink.
The grand package I purchased cost me somewhere around $850.00 CAD and it included 5 saucepans and lids, electric frying pan, double-boiler pot, steamer and masher along with the 3 and 6 egg poacher and tongs. A four piece, 4 setting Pirouette china set was included as a free bonus. In a blink, 32 years of happily cooking with my waterless Belkraft cookware has past creating some of those same memories for my two grown girls.
My own girls are now 20 and 23 years of age and I constantly remind them of the benefits of buying quality cookware. They also like to spend time in the kitchen creating scrumptious dishes to eat. My mother gave me sound advice 32 years ago and I have the same intentions for my girls.
Patricia Hushagen Edmonton, Alberta
---
Ron Geyer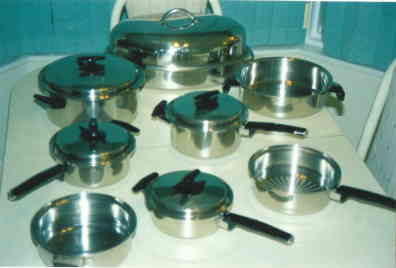 My set from 1975
"For the first time as far back as I can remember, I cooked on normal stainless steel cookware. I just came back from Orlando to take my boys to see Mickey. We rented a room with a kitchen to try and save money. (Not easy in Orlando) For the first time I cooked away from home and I am not used to using anything but 7-ply surgical steel cookware. After twenty-nine years of selling quality waterless cookware, I now truly realise what I did for thousands of people when I helped them acquire their sets. Just making breakfast in that warped 1-ply stainless fry pan was a frustrating experience. I had to use butter to make pancakes and they were black on the sides and the middle still needed cooking. I was glad to get home and away from sticking, burning and greasy foods. There are a lot of things you can try to buy cheap, but cookware is definitely not one of them. The only people paying for our cookware are the ones who don't have it. If you would like more info on our sets and how they can pay for themselves in a few short years, call me. Ron Geyer 1-877-523-7800"
If you have a testimonial you would like to add, please e-mail me at ron @waterproducts.ca