Counter Top Water Purifiers
BELKRAFT DUAL 10" FILTER COUNTERTOP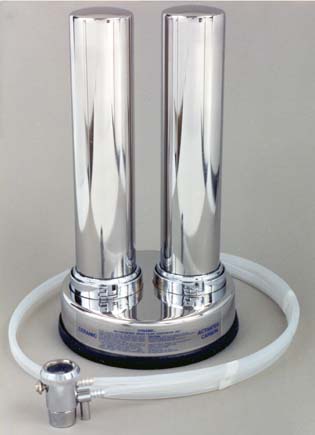 This model turns your tap water into clean,healthy, refreshing pure water! This lifetime stainless steel housing is perfect for use in the finest homes, restaurants, hotels, boats & aircraft with a high-capacity cartridge. Provides 1,500 gallons. Ideal as a specialty filter for Flouride or Arsnic.

BELKRAFT 10" DUAL FILTER COUNTERTOP:

---
BELKRAFT 2000 COUNTERTOP (10")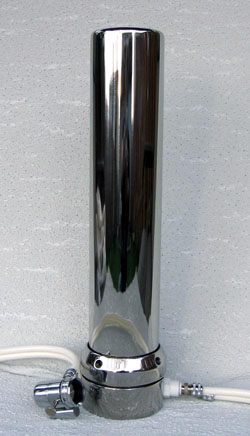 It's easy to install with no plumbing required. Certified by the National Sanitation Foundation, the BELKRAFT 2000 enhances the quality of your home's drinking water.
The easy to replace silver impregnated solid carbon ceramic filter removes particles as small as 0.3 microns plus eliminates the lead in the water you and your family use on a daily basis. The surgical steel housing has a lifetime warranty. Also can be installed under counter.
Retail $1094.00
Sale price $599.00
---
BelKraft 2015
By far the best stainless steel water filter on the market here!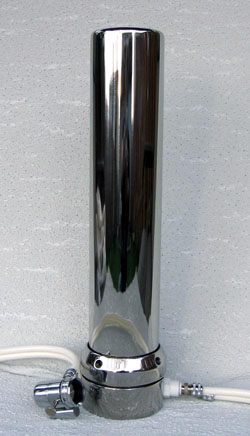 The most powerful multi-stage ceramic water purifier on the market.
Quality surgical steel housing.
Can go above or under the counter.
Holds a four stage washable ceramic filter.
Purifies to 0.3 microns.
High capacity cartridge lasts up to two years.
Allows the free flow of calcium and natural minerals.
50 year warranty.
BelKraft 2015 :
Retail $1319.00
Sale price $799.00
---
BelKraft 2020 (Professional)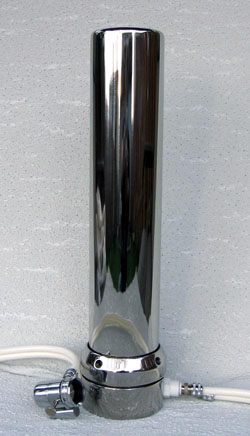 An ideal system for restaurants and areas for large capacities.
Houses the largest 4 stage ceramic on the market.
Quality surgical stainless steel housing.
Can go above or under the counter.
Holds a four stage washable ceramic filter.
Purifies to 0.3 microns.
High capacity cartridge lasts up to two years.
Allows the free flow of calcium and natural minerals.
Full 50 year warranty.
BelKraft 2020 :
Retail $1548.00
Sale price $899.00
---
NIMROD COUNTERTOP
Free standing water filter design allowing filtered or unfiltered water to be drawn from the same faucet.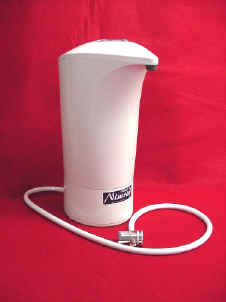 The Nimrod is the latest countertop model to join the Water Products filter family. State of the art design combined with the very latest advances in water filtration technology make the Nimrod the most advanced countertop water filter available today.
Like other Water Products designs the Nimrod can easily be fitted to your existing faucet, however we added a number of additional innovative features providing improved performance over the conventional design. An LED display panel provides a display of filtration performance while a cartridge life indicator tells you when to replace the ceramic filter element to guarantee optimum filtration performance.
In addition a new range of 2¾ inch diameter Imperial Ultracarb filter elements have been developed to fit the Nimrod. These elements provide lead and chlorine removal and high levels of bacteriological and particulate performance usually associated with the BelKraft name. The Imperial Ultracarb also provides improved water flow rates, increased filtration capacity and longer filter life than the standard Ultracarb.
NIMROD LED display panel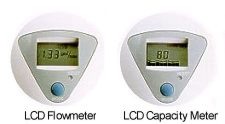 Increased filtration capacity.

Cartridge life indicator.

Continuous filter performance monitoring

Easy installation on existing water faucet.

State of the art Countertop design.
NIMROD COUNTERTOP:
Retail $694.00
Sale price $499.00
---
Slimline -- Candle Style Model
Tall, elegant and easy to maintain. Houses a four stage ceramic cartridge.
It's sold as a lifetime appliance--something you can depend on to provide safe and delicious water as long as you keep it serviced.
Installation is quick and easy--so easy you can take it with you when you travel. A good countertop filter is a friend forever--a versatile, dependable tool. You can use it at home, take it with you when you travel, or move it easily if you change your place of residence. You can quickly and easily convert it to an under counter filter.
Compare this with other leading water filters on the market.
SLIMLINE :
Retail $388.00
Sale price $249.00
---
BelKraft Universal (also available in black)
Enjoy the convenience of clean, clear, fresh water with a minimum investment. A high quality 4 stage filter cartridge, specifically designed for chlorine, color, bad taste and odors PROVIDES 1000 GALLONS of pure water. Available also in a under-counter model.
This unit houses a custom designed cartridge which is by far the best on the market.
First a washable sub-micron Porcelain Ceramic pre-filter prevents clogging of the cartridge and thereby extends its effective life.The ceramic pre filter also acts as an automatic shut off valve by slowing water flow to indicate that the ceramic needs cleaning without risking contamination of the cartridge or drinking water.
Free silver ions (Ag+) have a toxic effect on micro-organisms even in relatively low concentrations. They have a highly fungicidal, bactericidal and algaecidel effect, therefore removing all harmful bacteria, parasites and viruses including Gardia Lambia Cysts, Cryptosporidium, E Coli, Fecal Coliforms, Hepatitus B and Salmonella.
Stage three removes all heavy metals including lead, mercury, aluminum, iron, copper, zinc, magnesium and silver.
Stage four is a solid carbon block, which is so compressed that it is the equivalent of over 300,000 square yards of filtering media.
Universal:
Retail $518.00
Sale price $349.00
---
Specialty Purifiers
If you have a need for a specific chemical removal, we can design a purifier for your needs.
These units can be stainless steel or Polyprepoline. Can also be installed under the counter or above.
Dual Universal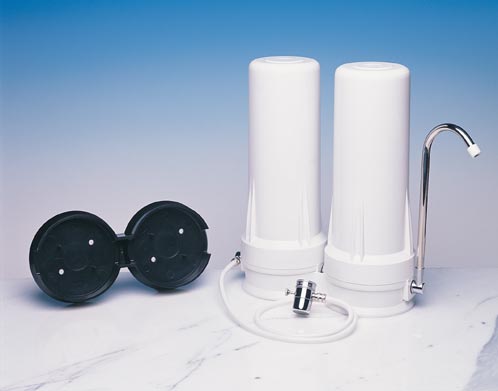 Dual BelKraft 2000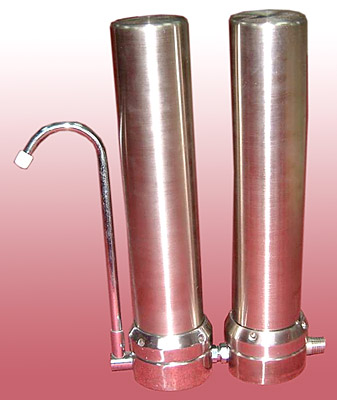 ---
Our Cartridges
All of our purifiers have a four stage washable ceramic cartridge which features ultra carbon, is silver impregnated, and has a carbon block + metallic media core. This Ceramic Filter is certified by NSF and the WHO.
Stages of Filtration:
First stage: The first stage consists of porcelain ceramic which provides genuine sub-micron filtration. The cartridge reduces fine particulate matter, bacteria, cysts and turbidity down to 0.3 microns.
Second stage: The incorporation of silver locked within the ceramic structure gives enhanced bacteriostatic and self sterilizing properties, preventing the growth of bacteria.
Third stage: An inner core of activated carbon block removes chlorine and organic compounds.
Fourth stage: Ion exchange resin reduces lead and other heavy metals.