Inline Filters
Filters in this class are throw-away systems. Replace the entire element. They are versatile systems that serve many needs. Most of our inlines are available in the quick connect John Guest format. That means you simply push the tubing into the cartridge for a tight, secure fitting. We also stock everything in 1/4 female pipe thread versions for existing installations that need this version.
When ordering, you will be asked to choose the connector style. Prices vary according to the connector.
We currently stock inlines in 10" lengths. 10" are by far the most common.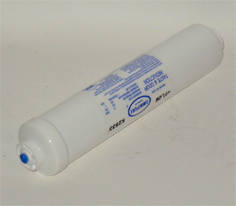 Above is our Omnipure 10" inline that we attach John Guest quick connect fittings. A handy, easy to install, easy to replace filter with great versatility. It is most often used as a refrigerator filter or a reverse osmosis postfilter, but it can be adapted to any situation where a high quality granular carbon filter is needed.