Cooler with purifier built in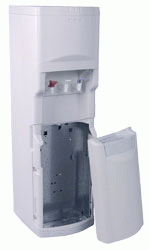 Cabinet: Made of durable textured polycarbonate designed to clean easily and resist scratches for years of use. Lower front panel and top are easily removed without tools for access to filters and water reservoir.

Drip Receptor: Large and easy to clean with molded splash ridges that holds cup in place while filling.

Water Storage Reservoir: Removable large capacity injection molded reservoir with air-tight snap-on lid assembly that allows easy access for cleaning and sanitation. Provides 1.7 gallons of chilled water storage. Probe and sleeve cooling technology makes removal easy by reducing the time it takes to drain the reservoir when removing.

Capacity: Provides up to 1.3 gallons of 50°F water at 70°F ambient temperature environment.

Cold Water Thermostat: Temperature controlled by an adjustable thermostat located behind the front access panel.

Refrigeration Unit: Convection-cooled condenser. Hermetically sealed compressor with automatic overload protection. Environmentally friendly R-134a refrigerant controlled by accurately calibrated capillary tube.

Stainless Steel Hot Water Tank: The removable, stainless steel ht tank puts the heating element where it works best - inside the hot tank. The result is more efficient heating and a hot tank that's easier to service. The adjustable thermostat allows customized setting for individual customer needs. The 500-watt heating element can be replaced on site, reducing time and service costs.

Hot Water Capacity: 45 six-ounce cups of piping hot purified water per hour.

Electrical: 110 volts, 60 Hz. Compressor hp: 1/20. Full load amps: Hot, Cook 'N ColdT Models, 5.5 amps; Cook 'N ColdT Models, 1.8 amps.

Dimensions: 43-1/2" x 13-1/2" x 16"

Net Weight: Hot, Cook 'N ColdT Models, 61 lbs; Cook 'N ColdT Models, 56 lbs.

Filters: NSF certified under Standards 42 and 53. One-piece manifold reduces leaks. Service filters in minutes by replacing pressure vessels containing fresh cartridges or replace elements on site.

Float System: Dual mechanical float system with safety backup designed for use with BelKraft filtration system.

Limited 5-Year Warranty: (Continental limits of the United States and Canada): Five years on the sealed refrigeration system and most component parts. Detailed warranty certificate enclosed with each water cooler; sample copy available upon request.

Components in these water coolers are lead free as defined by the Safe Drinking Water Act Amendments of 1986, and the Lead Free Contamination Control Act of 1988.

Models covered by these specifications are 'Listed by Underwriters' Laboratories and Canadian Standards Association.

The BelKraft Universal Water purifier:

A high quality 4 stage filter cartridge, specifically designed for chlorine, color, bad taste and odors PROVIDES 1200 GALLONS of pure water.

This unit houses a custom designed cartridge, which is by far the best on the market.

First a washable sub-micron Porcelain Ceramic pre-filter prevents clogging of the cartridge and thereby extends its effective life. The ceramic pre filter also acts as an automatic shut off valve by slowing water flow to indicate that the ceramic needs cleaning without risking contamination of the cartridge or drinking water. Free silver ions (Ag+) have a toxic effect on micro-organisms even in relatively low concentrations. They have a highly fungicidal, bactericidal and algaecidel effect, therefore removing all harmful bacteria, parasites and viruses including Gardia Lambia Cysts, Cryptosporidium, E Coli, Fecal Coliforms, Hepatitus B and Salmonella. Stage three removes all heavy metals including lead, mercury, aluminum, iron, copper, zinc, magnesium and silver. Stage four is a solid carbon block, which is so compressed that it is the equivalent of over 300,000 square yards of filtering media.