Whole House Systems
Big Blue Whole House Filter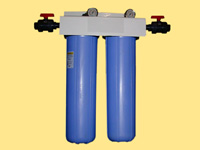 HAVE A BATH OR SHOWER IN SOFTER, CLEANER WATER 20 in. jumbo whole house filter with 0.5 micron nominal cyst, lead, chlorine and VOC reduction carbon block cartridge. Food Grade Polypropylene Housing

Including mounting bracket with screws and a full spanner wrench


1 inch ports, pressure vent


Dimensions: H 24 in. W 7 in.


Cartridge capacity: 150,000 gallons, 5 GPM flow rate @ 60 PSI
(See details on this amazing whole house system)
Retail $1780.00
Sale price $999.00
---
BelKraft 2000 Ceramic Filter Module

The BelKraft 2000 Whole House ceramic filter module processes up to 520 gal of water per hour, making it an ideal whole-house filter. Compatible with Big Blue housings, it is available as a complete filter housing package or a separate module for retrofit upgrade.
Holds six washable sub-micron silver impregnated porcelain ceramics.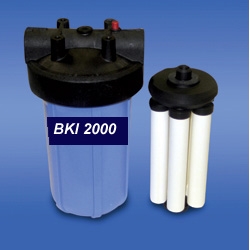 Go HERE for more details.
BELKRAFT 2000 WHOLE HOUSE UNIT :
Retail $989.00
Sale price $698.00
---
BelKraft NO SALT Water Softener
No scale buildup on fixtures and appliances
Scale prevention
Essential minerals are no longer removed
from the water
Clothes are softer, cleaner, brighter
Dishes are cleaner with less soap and no hard water spotting
Appliances using water such as dishwasher, clothes washer, water heaters, ice makers etc. last longer and are more efficient.
7 Year Warranty

Salt Free Water Softeners use a revolutionary filter media from Germany that chemically alters the compounds that create water hardness (calcium & magnesium) making the water look, feel, and act like conventionally softened water. Salt free water softeners will greatly reduce hard water scale formation on appliances and will reduce the amount of soap needed for showering and doing laundry. Best of all, salt free water softeners don't require any salt. No salt to carry from the store, and no sodium discharged to the environment. Salt free water softeners are a virtually maintenance free alternative to conventional softening.
Go HERE for more details
BelKraft NO SALT Water Softener :
Retail $2300.00
Sale price $1299.00
---
Slim Line Whole House System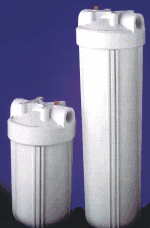 Optional Dual Grade 1 Micron Pre-Filter
This system is ideal for a smaller family as the flow rate is lesser than the Big Blue
WHOLE HOUSE UNIT :

---
Ultraviolet Ultimate Series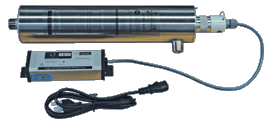 All of our systems come with simple installation instructions. Will still recommend that you call a licensed plumber to hook up your filter. The average cost for installation is $200.00.
Doing it yourself could cause future problems.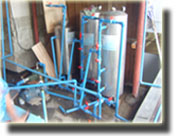 It's no
t
Are you going to trust your well water?

The highest risk water source today is ground water. The problem is that ground water can be so easily contaminated and the contaminations remain in the water because there is limited flow in the aquifers. The most common sources of contaminants nationwide are underground storage tanks (USTs), septic systems, pesticides and nitrates.
According to a recent study conducted by the Environmental Protection Agency (EPA) , the largest risks are from USTs commonly used by service stations, refineries and other industrial sites. These tanks normally contain hazardous materials like industrial waste or volatile organic compounds (VOCs) which are extremely hazardous for human consumption. As a gauge, one gallon of gasoline (regarded as a VOC) will render one million gallons of water unfit to drink.
If you own a well and would like information on disinfection proceedures click HERE
For more information on well water CLICK HEREworth it!